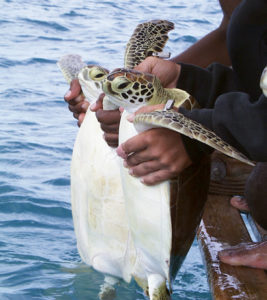 To help promote worldwide sea turtle conservation, every year since 1996 the Bermuda Turtle Project has offered an international course on the biology and conservation of sea turtles. The two-week course consists of lectures, class discussions of assigned readings, a necropsy session, and extensive field work capturing immature green turtles and hawksbills. Participants are from Bermuda and other nations where the sea turtles that use Bermuda waters are likely to spend time during their long and complex live cycles. The course is given in conjunction with a two-week sampling session in Bermuda. Participants contribute to the project while learning the fundamentals of sea turtle biology from hands-on experience and a set of carefully selected readings. The course is designed around the life history of sea turtles. Because we work mostly with green turtles in the field portion of the course, there is an emphasis on this species in the readings. However, we try to include discussions of all species at all life history stages. For most topics, we have included a specific case study from the primary literature rather than a review paper. We do this to introduce basic concepts in sea turtle biology, promote discussion of the reading material among students, and expose them to the types of research in which they might become involved.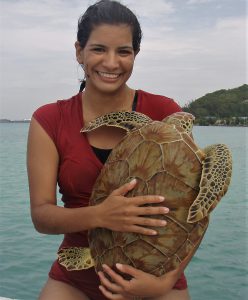 Over the sixteen years during which the International Course on the Biology and Conservation of Sea Turtles has been offered, it has served 140 students from the Caribbean and North Atlantic. Participants have been drawn from Anguilla, Antigua, Argentina, Aruba, Belize, Bermuda, Bonaire, Brazil, the British Virgin Islands, Canada, the Cayman Islands, Colombia, Costa Rica, Cuba, Grenada, Guatemala, India, Jamaica, Mexico, the Netherlands, Nicaragua, Panama, Peru, Portugal, St. Kitts/Nevis, Saint Lucia, Saint Maarten, Saint Vincent, Spain, Trinidad and Tobago, the Turks and Caicos Islands, the United Kingdom, the United States, Uruguay, and Venezuela.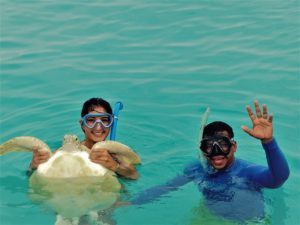 The course is sponsored by the Bermuda Aquarium, Museum and Zoo and the Sea Turtle Conservancy and is provided free-of-charge. Funding for participants has come from the Bermuda Zoological Society, Chevron Texaco International, the Sea Turtle Conservancy, and the Atlantic Conservation Partnership.
Applications for the course are accepted until April 20th. Applicants should have completed at least one year of university (or have equivalent experience), they must be good swimmers, and they should be able to read English. Financial support for attendance by international students is awarded annually based on the applicant's potential to use what is learned from the course to positively benefit sea turtles in their home nation.
---
Application Form And More Information